This is the main content.
Fresh. Frozen. Wild-caught.
Oceans of options.
Explore our variety of fresh and frozen wild-caught seafood, such as cod, snow crab, lobster tail, grouper, and shrimp. They're all responsibly or sustainably sourced in accordance with our seafood sustainability standards, so you can feel good about the fish you bring home.
Reel them in.
We have wild-caught options at the seafood counter and in the frozen case. They're easy to spot—simply look for Wild on the package or case tag.*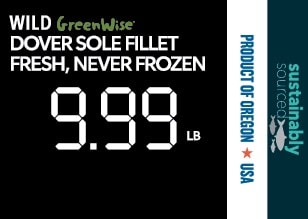 Pick up your favorites today. They're perfect for all sorts of dishes. Check out some of our wildly delicious recipes.
*This tag is intended to serve as an example only and may not reflect current in-store pricing.