This is the main content.
Whether you're saying "Thank you for coming" or "I love you," a handmade gift basket of food and wine delivers a delicious message for any occasion. Let our three idea starters inspire you to create your own easy-to-make assortment. You can find all the items pictured below—along with many more gift-worthy choices—on a visit to your neighborhood Publix.
Mom, you're the best! Dad, you're awesome, too!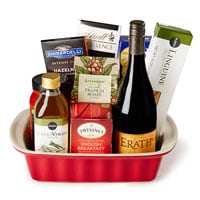 That's the message in this assortment chosen especially for a gourmet cook and arranged in a new baking dish that proves not every delivery has to come in a basket. Wrap it in cellophane to help keep the contents secure. And don't forget to include a few indulgences for the cook, like chocolates, coffee, and a bottle of wine.
Approximately $75 depending on items of your choice.
Thanks for coming.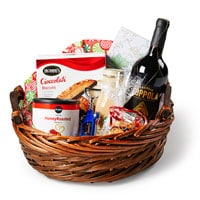 When guests arrive from out of town for your holiday party, they'll appreciate this basket of goodies to enjoy back at their hotel room. We've included wine, a corkscrew, and snacks—even a morning coffee drink and some fresh cookies from the Publix Bakery. And, just for fun, we've tucked in some local destination ideas for sightseeing.
Approximately $35 depending on items of your choice.
Gifting on a budget.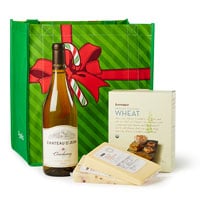 Now you have an affordable way to add the adults in your family to Santa's good boys and girls list. Start by picking three simple items (one being wine, of course), place them inside one of our holiday reusable bags, finish it up with colorful tissue paper, and done. A gesture everyone will love.
Approximately $25 depending on items of your choice.
Now that you have several ideas with simple in-store products, check out our experts' Top 10 Wines for Holiday Gift Giving to pick the right wine(s) for the right gifting occasions.