This is the main content.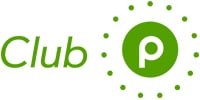 Save $5. That's how we roll.
Join Club Publix and enjoy $5 off your purchase of $20 or more.*
*Terms, conditions & restrictions apply. Valid in-store only.
*Item prices vary from item prices in physical store locations. Fees, tips & taxes may apply. Subject to terms & availability. Liquor delivery cannot be combined with grocery delivery. By clicking this link, you will leave publix.com and enter the Instacart site which they operate and control.