This is the main content.
Easter, made easy.
Let our experts make this your easiest Easter ever. No matter how many seats are at the table, Publix Catering will handle the planning and prepping so you can cherish special moments with family and friends. We'll hop to it and fill your Easter with just the right number of tasty entrées, sides, platters, and desserts. Pick up in-store or schedule delivery (in select areas).* Visit our Publix Catering FAQs to learn more. Ready to start planning?
*Delivery fees may apply. Notice required. Times vary by item.
Publix Catering brochure & menu items.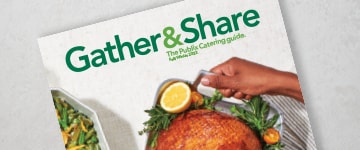 Delicious inspiration for your next event menu starts here. Pick up a brochure in-store or peruse our selection of appetizers, sandwich platters, Deli meals, desserts, and more. Order online or speak to a catering consultant who can recommend a variety of perfectly sized platters.*
*Notice required. Times vary by item.
Contact us.
Let us help you make your event outstanding. Provide us with some details so we can get a better idea of your event. Be sure to select the Publix Catering location nearest you and include your contact information. We look forward to speaking with you!