This is the main content.
Simplify the season.
Let us be your holiday helpers this year. Publix Catering® consultants are experts at putting together a festive menu that ensures you get the right variety and amount, no matter what size the gathering. Bring joy to the table with our delicious entrées, sides, platters, and desserts. Our convenient services help you trim your to-dos, from in-store pickup or delivery to placing and paying for your orders in one location.† Visit our Publix Catering FAQs to learn more. Ready to start planning?
Publix Catering brochure & menu items.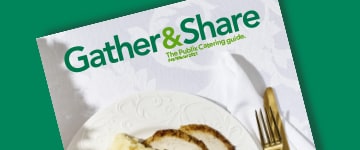 Find inspiration for your event menu in our Gather + Share brochure. Peruse our selection of appetizing platters, Deli items, dinners, desserts, and more. Each item is accompanied by a detailed description, number of servings, and price. Our catering consultants can recommend different menu combinations and portion sizes for your event.†
Contact us.
Let us help you make your event outstanding. Provide us with some details so we can get a better idea of your event. Be sure to select the Publix Catering location nearest you and include your contact information. We look forward to speaking with you!
† Notice required. Times vary by item.