This is the main content.
A legacy of strength.
Family reunions are a time to connect with loved ones. To strengthen traditions and values passed down over many years. It's a time to share a sense of belonging. To reflect on your past and celebrate your future. And even if everyone can't be together in person this year, you can still feel together. Because it's family.
To honor the strength of the reunion tradition and the families who keep it alive, we spoke to some of our chef friends about what their own family reunions mean to them. Take a look with us.
Meet the Chefs and Their Families
Chef Ashley Marie
Chef Ashley Marie is the founder of Live Life Well Fed, an organic meal planning and catering company based in Atlanta. Her company is known for using quality ingredients and flavors from around the world. She grew up in New Orleans, where food is the center of every social event, inspiring her to become a chef. She wants her food to bring joy to people.
When I think back on family reunions growing up, I remember my aunties the most. Gathered around the night before, fellowshipping and talking. Prepping for the next day. The smells and the laughter. They wanted you to help but didn't want you to mess their food up. But when I got better at cooking, I became part of it. It was like being in a special club. That sparked an interest in becoming a chef.... There's something beautiful about being over food. Connecting over food.
Technology has changed everything. Before, our reunions were potluck-ish…. Now, we have a Zoom meeting to plan what people will bring and do a sign up through an app. This past year we started having weekly Zoom calls. The fellowship is easier as tech advances. For our reunion this year, we'll incorporate a virtual component so family who can't be there will feel like they are.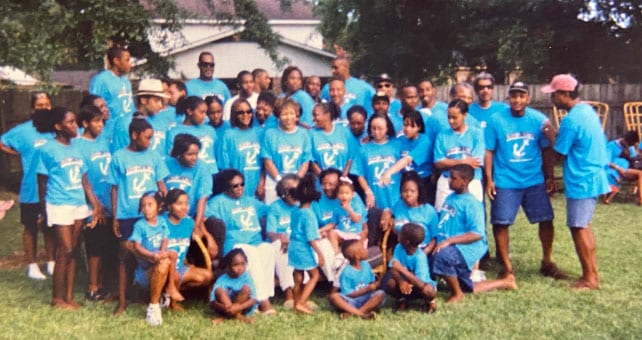 There's something important about knowing where you come from to know where you're going. Reunions mean your roots. It's important to keep our reunions going because we want the young ones who follow us to know the importance of family.
Through reunions, food, and fellowship, you can learn what's really important in life. A lot of us don't know where we came from. Don't know who our ancestors were. Or a connection beyond a few generations. There's a saying that as long as you're remembered you're never forgotten. There's family I never met—born in the 1920s—who I hear stories about. Reunions give us a chance to pass down our history. To pass down a level of unconditional love in our family.
This year, a low country boil isn't something we can really do. So I came up with a recipe we could do while still feeling like there's a low country element: my low-country spring rolls. And then there's my southern succotash. My grandma used to make it with okra, but I use crab meat. Then I add a Cajun twist in honor of where I grew up, the New Orleans trinity: bell peppers, onion, and celery.
Chef G. Garvin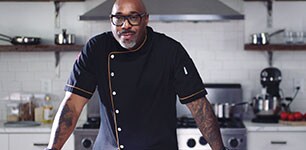 Chef G. Garvin is a cookbook author, television host, restauranteur, and James Beard Award-nominated chef. He's also the cofounder and executive chef of LowCountry Restaurants with multiple locations in Atlanta, where he grew up. His restaurants are known for their from-scratch menus. He won't serve anything in his restaurants that he wouldn't feed his family.
When it comes to family, it's not about what's on the table as much as who's at the table. It's about being together and that fellowship…. There's something about a conversation around a dinner table. Eating a peach cobbler or something and someone saying, "Tell me about grandma." It's really hard to match that.
Family reunions are about generational life. Understanding each other…. But if you're gonna have a seven-year-old and twenty-seven-year-old in the same place, you have to cater to both of them or you're gonna lose them. It's important for the kids to know where they're from, but it's all about how you deliver the message if you want to keep their attention. The best thing you can do is share pictures and stories…. The dinner table is a good place to start with that.
On a family trip last year, my kids were learning how to play tonk with their uncle. There are moments like that at family gatherings you can't re-create…. They serve as a reminder of what's important. And that's people who will be with you at your best and worst. And hopefully everything in between.
Family reunions are a safe haven for cultural experiences and questions. For understanding who your family is. Your history…. My wife's from Africa. So at reunions, I'm able to get to know her father and their history in Ethiopia. When we blend those cultures, there are old traditions we're teaching our kids, but also we're embracing new traditions that haven't been around.
There are lots of things inspired by my mom on the menus of my restaurants. Growing up, we did a lot of braised short ribs. I remember thinking as a kid, "My God, the house is gonna catch on fire," 'cause my mom would slow cook them in the oven overnight. We would have that with grits…. So with my braised short ribs over polenta, I get to represent my history, but also evolve it.
Recipe Inspiration for Family Reunions
Enjoy these recipes from Chef Garvin and Chef Ashley Marie, inspired by the love that's shared during family reunions.
Plan Your Family Reunion
We'd love to help you plan your family reunion, even if it looks different this year.