This is the main content.
Lay them to rest on your buffet table.
The sweet flavors of butterscotch and chocolate, the satisfying crunch of chow mein noodles—no tricks about it, this is a delicious treat! And so easy, you may want to ask your excited little goblins to help you with it before the party starts.
Source: Publix Aprons® recipe.
Total Time - 20 minutes
Active Time - 10 minutes
Servings - 32
Ingredients:
Parchment paper
2 cups butterscotch morsels
2 cups milk (or white) chocolate morsels
1 (12-oz) bag chow mein noodles (6 cups)
Lightly salted, dry-roasted peanuts (up to 1 cup), optional
Steps: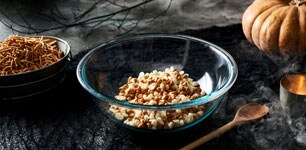 Line 2 baking sheets with parchment paper. Combine morsels in microwave-safe bowl; microwave on 50% POWER for 2–3 minutes, stirring occasionally, or until melted.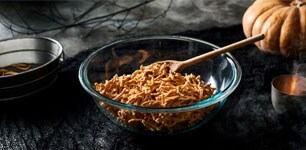 Place chow mein noodles and peanuts, if using, in large bowl; stir in melted morsels until completely coated.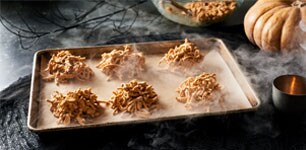 Divide mixture into small mounds on baking sheets. Chill 10 minutes for chocolate to harden. Serve.
Nutritional Information:
CALORIES (per 1/32 recipe) 180kcal; FAT 9g; SAT FAT 6g; TRANS FAT 0g; CHOL 0mg; SODIUM 150mg; CARB 23g; FIBER 1g; SUGARS 14g; PROTEIN 2g; VIT A 0%; VIT C 0%; CALC 2%; IRON 4%