This is the main content.
Mummify your meal.
If you're looking for a savory meal to serve before or after trick-or-treating, the Hieroglycious Mummy is a delicious choice. Kids will love the Halloween theme, oozing cheeses, and tasty toppings. Of course, it's a fun choice for a group of adults, too—we're all kids at heart on Halloween!
Source: Publix Aprons® recipe.
Total Time - 35 minutes
Active Time - 10 minutes
Servings - 6
Ingredients:
Nonstick aluminum foil
1 refrigerated pizza dough (14–15 oz)
1/2 cup part-skim ricotta cheese, divided
12 slices pepperoni
1 cup precooked sausage crumbles
1 cup shredded Italian cheese blend
Olive oil cooking spray
2 olive slices (optional)
1 (14-oz) jar pizza sauce
Steps: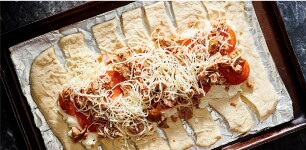 Preheat oven to 350°F. Line baking sheet with foil. Roll dough onto prepared baking sheet.


Spread 1/4 cup ricotta cheese lengthwise, down center of dough, leaving a 3-inch border. Top ricotta with pepperoni, sausage, and shredded cheese.
Lift one end of the dough and fold slightly, about one inch over toppings. Slice dough 2 inches apart, along the sides, to the filling. Wrap the mummy by alternately folding strips of dough over the filling (pinch edges to seal under the mummy). Coat mummy with spray; arrange two olive slices for eyes, if desired.


Bake 18–20 minutes or until browned and thoroughly heated; let stand 5 minutes. Serve with pizza sauce for dipping.
Nutritional Information:
CALORIES (per 1/6 recipe) 380kcal; FAT 16g; SAT FAT 6g; TRANS FAT 0g; CHOL 30mg; SODIUM 1130mg; CARB 39g; FIBER 2g; SUGARS 6g; PROTEIN 17g; VIT A 0%; VIT C 0%; CALC 15%; IRON 15%