This is the main content.
The clear choice for a sweet party.
Don't let its spookily realistic glint fool you—this "glass" candy is not only edible, it's delicious. And with just a few ingredients, it's easy to make too. Munch on a shard to give party guests a good scare!
Source: Publix Aprons® recipe.
Total Time - 1 hour, 10 minutes
Active Time - 10 minutes
Servings - 12
Ingredients:
Wax paper
2 cups sugar
2/3 cup light corn syrup
1/2 teaspoon peppermint extract (optional)
3/4 cup water
Steps:
Line baking sheet with wax paper. Heat sugar, corn syrup, peppermint, and water in medium saucepan on medium-high 4–5 minutes, shaking skillet occasionally but without stirring, or until sugar begins to melt.


Reduce heat to low; cook 3–5 minutes, stirring regularly with a wooden spoon, or until 300°F measured with a candy thermometer. Quickly pour syrup onto wax paper; spread into a thin layer using back of spoon. Let stand 1 hour to cool, then crack into shards using handle of rolling pin or spoon.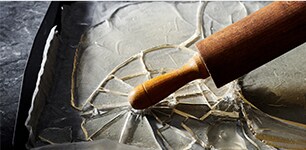 Nutritional Information:
CALORIES (per 1/12 recipe) 170kcal; FAT 0g; SAT FAT 0g; TRANS FAT 0g; CHOL 0mg; SODIUM 20mg; CARB 46g; FIBER 0g; SUGARS 37g; PROTEIN 0g; VIT A 0%; VIT C 0%; CALC 0%; IRON 0%